Flying to Los Angeles seems so easy after lots of east coast US travel over the last few years.  The luxury of a single flight. 
Our primary purpose for visiting was a conference, where processed chicken meat and lettuce sandwiches were the lunch offered for all four days to the 15,000 delegates in attendance. As I'm fairly seasoned at the pitfalls of eating at large conferences I opted for the Indian Vegetarian dietary option which is a pleasant way to eat.  Also there were bananas!  I was excited enough to take a photo.  A very clever group marketing their product to conference delegates organised for a Kogi Taco Truck to attend one lunch time – I'd got wind of this in advance and managed to get in line 19th from the front of the queue.  Despite the heat, the tacos were worth it.  Fresh, vibrant flavours, smoky succulent meat, a twist of lime and a hit of sriracha – it's a good thing there was a limit on tacos (they were free) or I may have been rolling under the table like a turtle afterwards.  I think any food safety officers who feel food trucks can't work here in Brisbane need to see what a slick operation Kogi is.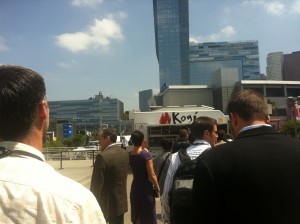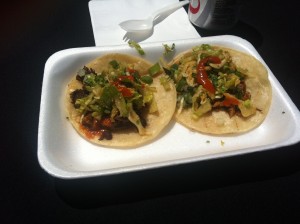 Before we got neck deep in conferencing, we escaped from our hotel for a decent dinner.  Steak was our quarry, but I wanted to find somewhere with a bit more interest than the Morton's restaurant across the road from our hotel and next to the ubiquitous Starbucks.  After labouring over Urbanspoon with a bad a case of decision making disorder, I settled on
LA Prime
, on the top floor of the Westin Bonaventure Hotel, a few blocks away.  A hotel restaurant yes, but it turned out to be a great choice.  After navigating our way through what we later discovered was a Scientology Convention on the foyer level, we caught the glass enclosed lift to the top floor.  Linen dressed tables, polished silverware and glassware sparkled as the sun set over the 360 degree views of LA.  Sometimes, even at the pointy end of US dining, the food can seem brutal and overdone.  Not so here.  Entrees were light and inventive, featuring quality produce served simply, with pretty and modern presentation in a New American style. I chose the organic red and golden beets, humboldt fog goat cheese with grapefruit and sherry emulsion, which only just pipped the very adventurous sounding halibut cheek in live sea urchin broth  'in shell presentation'.    I think of New American as the US equivalent of our 'Modern Australian' – it draws on a variety of culinary and cultural influences and focuses on highlighting excellent local produce. 
As you might expect there's some pretty serious steaks on offer at LA Prime and the staff are happy to talk you through the options – dry aged, wet aged, different finishing, aging and cuts.  We chose a bone-in delmonico ribeye dry aged which was accompanied by an excellent sauce bordelaise.  Our other main was also faultless – seared mano de leon jumbo scallops, smoked pork belly, english peas, potato emulsion, micro asparagus.  It would be churlish to say this dish was a little rich since the combination of ingredients isn't exactly hiding this potential.  Delicious sides of Vermont white cheddar mac and cheese and local honey glazed petite heirloom carrots rounded out a fantastic meal.  Our server Lois was an absolute pro, a career waiter who knew about the food, the impressive wine list, the view and much more.  The perfect person to work in a place like LA Prime.
The following night, we were hosted by our lovely friends Ange and Steph and their company for a group dinner at the Standard Hotel in Downtown LA.  Part of the portfolio of André Balazs' hip hotels, we dined in courtyard restaurant, part of the hip yellow and chrome 24/7 dining room.  None of the typical hotel fare here either, with sustainable local produce featuring.  We ordered a bunch of starters and sides to share.  Highlights included Berkshire pork chop with a grilled whisked peach, violet honey mustard; Portobello mushroom fries with smoked paprika aioli; duck fat smashed potatoes; grilled california asparagus and an excellent tuna tartare with watercress and cucumber served with salty pita chips.  The wine list is short but cleverly composed.  So nice to find drinkable things on a US wine list. We chose the Domaines Schlumberger Riesling Grand Cru 2006 and Marc Bredif Chinon Bourgueil Touraine 2009.
It's a treat to find such good eating in Los Angeles and our visit to Santa Monica Place for some last minute shopping before heading to the airport further confirmed this.  Our trip finished with perfect weather, delicious food, Italian wine and a lap around one of the best market style food halls I've seen in a retail centre. 
In N Out Burger will have to wait for our next trip.
---