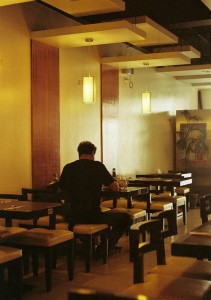 Depending on your viewpoint, dining solo is an awkward necessity or a cherished luxury.   We so often hear platitudes like 'food, wine and friends' and 'good food, good company'.  Fair enough too.  But that's not to say that a table for one doesn't have its charms.
In another time in my life I did quite a bit of solo dining.  I travelled for work, sometimes day trips, sometimes further afield.  Not always glamorous locations.  Having a glass of wine and a plate of something delicious on your own is a pleasure, once you get comfortable with the idea.  I love sitting up at the bar in a foreign city, without any pressure or expectation from dining companions.  Eat what you like, drink what you like and savour every flavour and texture.   It's the perfect opportunity to experiment a little with the menu, have a conversation with someone you'd not normally talk at length with and eavesdrop on conversations around you.  And don't underestimate the opportunities you'll have to indulge in a session of people watching.
I don't eat alone so often these days, and when I do its by choice, not necessity.  Nowadays its usually at lunch time and as I'm always trying to cram more into each moment, I usually have my Kindle or smart phone in one hand and a fork or chopsticks in the other.
So if you find yourself dining solo, where should you go?  Restaurants with bars are a good choice, particularly if you're dining early or need a bite a little later, perhaps after a cocktail function without any substantial food.  Provided you're there either side of the rush of diners, you'll find most bar keeps admirable companions in conversation.
Some cities do solo dining better than others.  When I was in Melbourne for business, Il Solito Posto was my table for one of choice,  interesting wine by the glass and many an overheard gem.  With plenty of small bars, Melbourne is one of the best cities to be in for a table for one.  But with the Brisbane dining scene maturing, there's no better time to venture out alone.
What makes a good table for one?  Here's a few of my favourites.
Lonesome Lunching
Taro's Ramen
My love of Taro's is well known and since its over the road from my office I find myself there often.  A solo diner haven.  The focus here is undoubtedly the ramen, made with care and fine ingredients.  Don't overlook the Japanese curry, which I usually have with vege croquettes or crumbed prawns.  Ramen and contemplative reading work well together.
AJ's Noodles (CBD)

It's the size of your living room, but don't get too comfortable, they'll need your table back soon.   Pho, rice vermicelli salads with lemongrass chicken, prawn on sugarcane and thinly sliced beef are what you should have.  Keep a serviette handy to wipe the soupy smudges off your phone or Kindle.
Guzman y Gomez
Yes it's a chain, but the Valley branch is well located for a quick visit between appointments. Burritos are tasty and require only one hand for eating leaving the other free for reading, emailing and other one handed pursuits.  They can be a bit messy and if you're eating alone no one will question the amount of jalepenos or tabasco you have.
Fresh Fish Co.
Sure, you can comfortably dine alone at any sushi train in town.  But the best sashimi is at Fresh Fish Co. and the parade of yuppies and moneyed housewives keeps things entertaining.
Dinner & Drinks
1889 Enoteca

Both the staff and the wine makes for amiable company here, take a stool at the bar and get lost in this piece of Italy transported to Logan Road, Woolloongabba.  The answer to many of life's questions lies in the bottom of a glass of Barolo.
The Laneway
Tucked up above Urbane and The Euro, this a great spot for a cocktail, thanks to Pez and the boys.  Tunes are good, silent movies flicker and the burgers and onion rings really satisfy.  Downstairs, there's also the bar at The Euro, perfect if you'd prefer to chat with the witty and good looking staff and dine on more sophisticated cuisine.
Cru Bar and Cellar

Some say it's Brisbane's best spot for people watching.  Even if you don't agree, the food is reliably good and there's some pleasing things by the glass or half bottle.  Don't stay too long though or the cougars might come for you.
Il Centro
A Brisbane institution that still has plenty of appeal, earlier in the week you'll certainly not feel out of place as business travellers regularly take a table for one here.  With an open kitchen, a view of the passing parade along Eagle Street Pier, and a handy by the glass list of domestic and Italian gems, you'll wonder why you don't dine alone more often.
Sake
Sit up at the bar and watch the talented Shinichi Maeda at work.  Plenty of small plates, sake flights and polished service along with clever ways with quality local seafood add up to a very pleasant way to dine.
Newcomers
Cabiria
A little dark and feisty like its Fellini film muse, this recently opened Paddington bar gives you plenty to look at both on and off the menu.  The atmosphere is just right for an hour or two sampling small plates, a few of the 50 wines by the glass and the shucked to order oysters.
Vintaged
It's not often that hotel dining can be recommended, but this new venue at Brisbane's Hilton offers moody lighting and enough intimacy to nicely cosset a solo diner along with a pleasing menu of simple, classic dishes.
Olé
Pull up a timber stool at this Spanish inspired Southbank newcomer and work your way through quality tapas, raciones and a few sherries.  People watching here runs the full gamut of humanity.  Large, dark sunglasses recommended.

I'd love to hear your thoughts on solo dining.  All submissions for your favourite table for one venue gratefully accepted.
Table for One voyeurism.