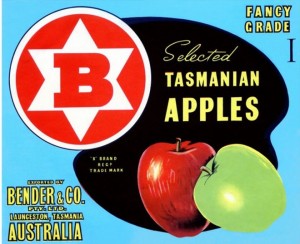 The AM radio hisses, then the signal gets clearer.  'You know where I was when this one came out?' he says as the opening notes of Roy Orbison's 'Only The Lonely' play.  'I was in Tasmania picking apples'.  This is my dad speaking, who links all his best memories as a young man to the hits of the day.
I'm kind of the same, but for me its not just the tunes, but the smells as well.  My mum's velvet soap and cammomile Grassroots woolwash mixed with the woollen kilt and jumper that was my school uniform.  Lanolin, mud and straw from my Uncle's farm and my Grandma's dusty old coat I wore on winter holidays there. Eucalyptus, fresh cow pats and crisp mountain air in the Alpine Valleys; hops in the sun, malt on the stove and steaming sterilsed beer bottles of Dad's homebrew production line.  My Nanny's Yorkshire pud with beef dripping from the pan, mashed parnsips and a spoonful of molasses for each day you stayed over at their house by the Hume Weir.
Access to these sorts of memories via a snatch of a familiar tune or the scent of times, places and people past is a highly personal experience, often difficult to put into words. But the rush of memories can make your pulse quicken and leave you short of breath.
One of the first meals I found truly exciting was my mum's Osso Bucco.  She didn't make it really that often, and despite my parents strained relationship, I think it was something my Dad particularly enjoyed too.  Somewhere, I have the page out of her battered Women's Weekly cook book which was the genesis for this favourite dish.  She served it with 'smashed' potatoes – a decidedly plain take on classic mash – made with lumpily mashed greying boiled spuds, powdered skim milk and a small amount of butter, a sort of Depression era style that ensured the meal was cheap to make.  And that's really what Osso Bucco is, a way to make something luxe and complex from simple ingredients and a cheap cut of meat.
I make a version of this whenever I can buy some veal shin, the cut known in Italian as 'osso bucco', or 'bone with a hole' owing to the marrow filled bone at the centre of each slice of meat.  Here's how it goes, approximately.
Ingredients
Olive oil
1 brown onion, finely diced
2 carrots, sliced
2 – 3 sticks of celery, finely diced
5 – 6 cloves of garlic, finely chopped
1.5 kg of veal shin, cut into slices (ask your butcher for Osso Bucco)
2 tablespoons of tomato paste
1 cup of wine (traditionally white, red is fine too)
2 cups of beef stock
2 tins of Italian tomatoes
3 springs of thyme
3 thick strips of lemon peel
Flour, salt and pepper
For gremolata
Zest of 1 lemon
2 cloves of garlic, finely chopped
2 – 3 tablespoons of parsley, finely chopped
Method
Combine enough flour, salt and pepper to toss the meat in before cooking.  Heat olive oil over high heat in a heavy pan, like Le Creuset or similar.  Brown the veal in batches on all sides and set aside.
Heat a good glug of olive oil in the same pan, cook the onion, then the garlic, carrot and celery for 5 minutes or until coloured and softening.  Add the some wine to deglaze the pan.  Add stock, tomatoes, wine, thyme and lemon peel and then veal pieces to the pan, taking care to stand them up so the marrow doesn't fall out.  Bring the mixture to the boil, then reduce heat and simmer, covered to 2.5 – 3 hours, or transfer to the oven at around 140 degrees C.  Adjust seasoning as required.
Combine the gremolata ingredients in a bowl. Serve with creamy polenta or mash, and sprinkle gremolata over the Osso Bucco.
The gremolata transforms what could be another boring casserole, lifting the flavours and delivering a fresh acid hit that highlights the complex flavours of the sauce.
Serve with a glass of pinot and imagine there's a crackling fire and tunes loaded with memories and longing.  Enjoy.