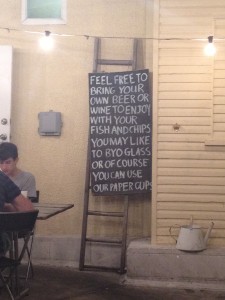 Off the beaten track midway between South Brisbane and West End, Swampdog is a fish and chip shop that focuses on sustainable seafood species. As much as I applaud this concept, I wasn't sure I'd get the same enjoyment from Swampdog as the Greek run fish and chip shop of the sort I grew up with. So sentimental about the 'traditions' of fish and chips am I that I even asked the proprietor of Swampdog via Twitter if he wrapped his fish and chips in paper with a fold on top (they don't – for practical reasons that become obvious when you eat there).
By chance we were walking past Swampdog tonight. As you approach from Woolloongabba, there's a gentle glow that draws you in. Bare bulbs strung up over a courtyard with tables made from old doors, handles still attached. Charmingly so, rather than daggy and down at heel. Inside, the sustainability ethos of Swampdog is writ large, literally black on white, in proud and deliberate hand painted letters.
The food is deliciously fresh, with similar prices to other 'gourmet' fish and chips places around town, but without needless frills. Cooked to perfection and served piping hot with hand cut chips and salad, seasonal options are written on a blackboard. There's also fish burgers, wraps and other dishes including a few Asian inspired options served with rice. Portions aren't enormous, but the quality of the food satisfies. Even better, Swampdog is BYO and there's cooling breezes to enjoy outside in the courtyard, though inside the shop is as hot as any other fish and chip shop.
I'd happily spend a lazy lunch or dinner here with a few beers or a bottle of wine, and my whiting burger with house made aioli, salad and a ginger beer was one of the best things I've eaten for sometime, perfect in its simplicity. It's refreshing to know that you're not eating some deep frozen, over-fished species, but ethics aside, this is good food. Swampdog manages to get its point across by serving food that tastes better than the others, without any pretension or preaching.
Swampdog Fish and Chips 186 Vulture Street, South Brisbane 07 3255 3715
www.swampdog.com.au
Open 7 days from 12 noon until 8:30 pm