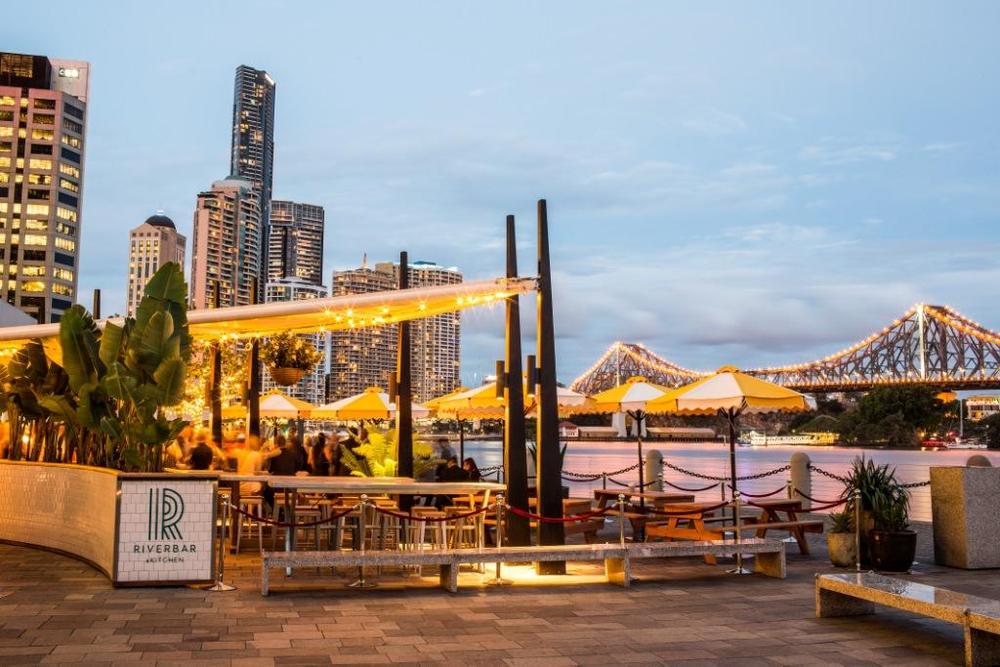 Riverbar and Kitchen replaced the ill-fated Boardwalk Bar and Bistro late last year. Part of the hospitality conglomerate best known for Aria restaurants in Sydney and Brisbane, it's a big improvement on Boardwalk in many ways.
Firstly, the nautically inspired decor is charming and fun, and the layout makes much better use of the space without feeling any more crowded. Outside, cheery yellow and white umbrellas, banana plants and shade sails softly delineate the dining area from the sweeping Riparian Plaza boardwalk. Whitewashed veejay boards, pale timber furniture, rope-strung pendant lights and wicker basket hanging plants take the relaxed seaside theme through to the interior. The clutch of grid-packed booth seats inside are the only trade off, looking more like McDonalds circa 1982, but fortunately Ronald McDonald is nowhere to be seen.
Well-groomed staff were engaged and happy to be there on my visit, and signal the benefits of strong systems and training. You order at the bar, but even when busy there's no queuing and an efficient pace is set.
The menu is static and relatively brief, but manages to appeal with bar food like prawn popcorn with jalapeño mayo, lamb quesadillas, potted salmon served with crisp bread and other simple wine friendly fare. The balance of the menu comprises pizzas, substantial salads and mains. Steak sandwiches, lamb shank pies and flathead with chips and tartare sound like pub food but are smartened up a little here to suit the aspirational diner. While the wine list is a whisper slim offering on the back of the tri-fold menu, it manages to cover the bases without being overtly commercial.  Most wines offered are in the $30 to $50 a bottle range and provide a good price to value ratio. There's a somewhat anachronistic bent towards NSW wines, which is perhaps a result of the Riverbar's Sydney based ownership.
It's an expansive venue, open every day and as such invites a wide range of patronage – city residents and workers on weekdays as well as tourists, suburban day trippers, crowds of boisterous mates and families alike. Inside, noise is cheery but doesn't hamper conversation. Outside, there's a breeze and as the sun sets conversations drift out across the boardwalk and Brisbane River.
Riverbar and Kitchen is a good spot for a casual bite and offers a one of the better vantage points to enjoy a drink by the river, though it's brilliant to see more competition emerging in this category over the last couple of years.
Riverbar and Kitchen Boardwalk level, 71 Eagle Street Phone: 07 3211 9020 Mon – Fri 7am to 11:30pm Sat & Sun 8am to 11:30pm Bar food & pizzas only after 10pm No bookings