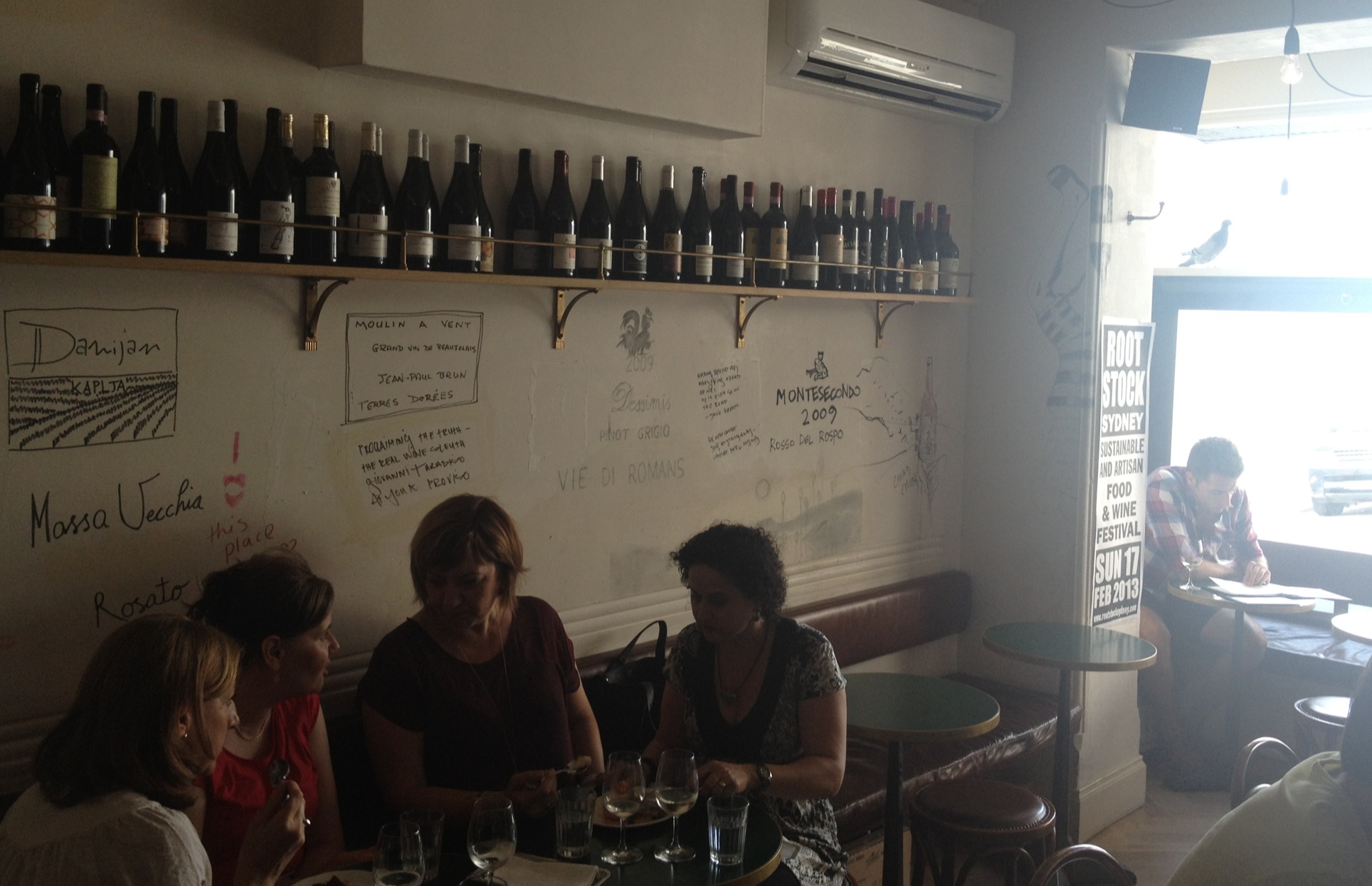 It would be easy enough to walk right past 10 William Street and this part of what I like about it. It's got a very particular appeal, so when I read a review in a major publication last week I frowned slightly. It's the kind of place that seeks approval from no-one and doesn't depend on mass popularity.
I first visited at the urging of a couple of friends in the wine industry, who clearly have me pegged. The next weekend I was back with a clutch of mates, and if I lived closer we'd be up to a couple of dozen visits I'd say. Instead I'm dreaming and scheming about one day opening a place just like it – though it might be less messy (and cheaper) to move to Paddington.
Just off Oxford Street, and over the road from the Paddington Inn, it sits in a row of appealingly shabby terraces, just a little darker and handsome than its neighbours. Look up and there's chalkboard scrawl on the balcony, it's a sign. On paper it's a bar that serves food. Also, it's Italian, like it's owners brothers Giovanni and Enrico Paradiso and Marco Ambrosino. But that undersells it.
Italian restaurants are often written about in such a stereotype-ridden, hackneyed way. Writers can fall into the trap of convenient catchalls, portraying 'Italian' venues as run by a rosy cheeked mamma and papa with their progeny cooking and serving bucolic and hearty meals brimming with garlic, sugo and olives and washed down with Chianti. The 'unification' of Italy is a relatively modern development and it's food and people are in reality regional, former countries in fact, each with nuances and outright differences. 10 William Street has nothing to do with stereotypes. Forget them.
To begin, there's a smouldering and attractive insouciance to the service here. In fact, wine aside, the atmosphere can be intoxicating. It's a small space that doesn't pretend to be bigger, no architectural trickery. That seat at the bar that looks implausibly small is perfectly adequate and gets you closer to the action. Menu and wine list are scrawled in chalk on a wall and there's a lengthier wine list bracketed into an appropriate logic if you want to peruse it. Order something by the glass to get started, ask what's good and let the staff direct your vinous journey from there. Don't expect to find anything even vaguely mainstream here, rather an idiosyncratic mix of wine imported by the owners and their friends and sake imported by manager, Matt Young, also proprietor of Black Market Sake. There's wine from some of the more exciting Australian producers too. There was no sneering when a lady beside us asked for Sauvignon Blanc, but rather a deft redirection towards an Italian Chardonnay which drew compliments.
For its undeniable wine focus, the food is by no means the understudy here. It's as exciting and dynamic as the wine without fighting for attention. PJ Harvey and Thom Yorke's 'This Mess We're In' rather than will.i.am and Britney's 'Scream and Shout'. A salad of tomatoes, beetroot and burrata and plate of osso bucco with handmade flat pasta studded with bone marrow are the kind of food you revel in, rather than simply eat. Chef Daniel Pepperell now helms the kitchen and with stints at Attica, Oscillate Wildly and Momofuku Ssam Bar there's a sense that the food is morphing into something shades more daring and inventive, without losing its underlying simplicity.
There's a quiet magic to the quality of light in this place and it's as much a feature of the decor as the wine-inspired marker pen scrawlings that meander around the walls and tiled bar, some evidence of late night efforts censored with patches painted over. As the sun dips, the light is low and the mood of the place changes, or is that because we've now moved onto a Barolo? You have another bottle you think we should try? Yes please.
Upstairs, there's a (relatively) larger dining area better suited to dining with a group of friends or with someone you'd like to give your attention to. Downstairs it's all about losing yourself in the wine, the food and being but a player in the show.
10 William Street Wine Bar and Restaurant
10 William Street, Paddington NSW
Open Monday to Thursday 5pm to midnight, Friday and Saturday midday to midnight.
Phone: 02 9360 3310