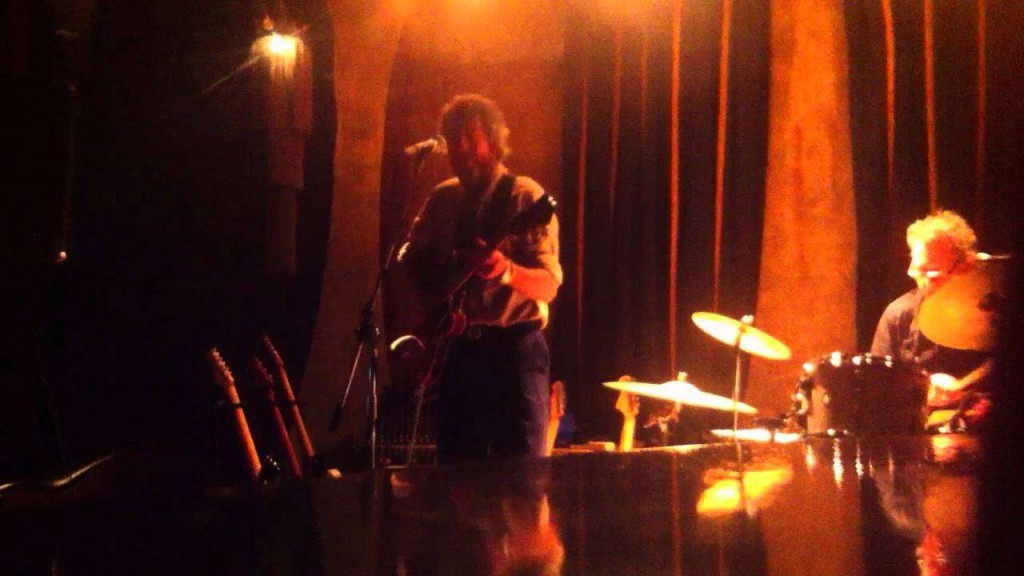 Some say that with all the urban renewal and cafes, Brisbane's lost its soul. Then there's those who view Joh Bjelke-Petersen's greatest gift to the city as the period of oppression that led to an artistic and musical underground movement which gave birth to bands like The Saints, The Hard Ons, The Survivors and The Go Betweens. But even the biggest music fans of that era now have mortgages, kids and careers, left with foggy memories and songs to sing along to as they drive from board meetings to rugby training to the automatic gates of their suburban home. I sometimes wonder if the irony of singing along to punk tales of disenfranchisement is lost on them.
Resistant to the suburbs and childless, I find myself with a ticket to a festival in the Valley on a Saturday night at a venue I'm not familiar with. It turns out none of us know the address printed on our tickets for the Queensland Festival of Blues.
The venue is an old picture theatre, at the end of town otherwise populated by strip clubs, drunks and meth heads. It was a live music venue a few years back, before being shuttered for reasons which are now unclear. Its just been given a lick and and a polish and this is the first gig under its new custodians. A mate who runs a shop up the street tells us there was a problem with the venue's license, some hold up that means they can't open their bar tonight. It seems improbable. The short walk from dinner at Thai Wi-Rat in the Chinatown mall to the venue is lined with buskers, cheap amps and electric guitars each one, and as we walk Santana, Hendrix and Metallica wail and waft. Anyone can play guitar. SUVs with P plates cruise past, driven by private school kids in Ralph Lauren and improbably deep tans. A couple of drunks sleep sprawled on flattened boxes around a shuttered shopfront door.
We head down the steeply pitched stairs to find that it really is BYO alcohol, for tonight at least. For $3 for our party, the venue will keep our drinks behind the bar and give us some glasses if we want them. The venue's profits for the night evaporated before they even open the doors. Our Czech beers get the job done, even if we wind up with bits of coloured foil on our lips and in our mouth with each swig we take.
Over the sound of Morningside Fats wrapping up their set, I'm introduced to Harry, a bespectacled, smartly dressed man in his fifties. He's a fixture at these events who every one seems to know. My friend whispers to me about the underground blues venue Harry runs from his house, a soundproofed subterranean haven from licensing and noise complaints.
On the small makeshift stage to the right of bar, 8 Ball Aitken strides around with a beat up metal body guitar, a bandanna across his forehead and wavy red hair flowing to his waist. With his flaccid cheeks and Celtic looks he seems an unlikely proponent of the blues. But I wonder in Queensland in the year 2013, can anyone truly can have the blues? Almost with out exception everyone here looks well fed, clear eyed and on the surface, well adjusted. There's Harry again and I notice for the first time that his t-shirt reads "I don't need sex, I'm getting f*cked by the government every day'. I guess the devil takes forms.
From the confused range of accents and lyrical matter it seems Aitken hails from North Queensland via Nashville. He wraps up his set with the bawdy crowd favourite 'Outback Booty Call' a song about 'a girl with "I love the blues" tattooed somewhere that you'd usually sit down'. Women of a certain age shimmy and shake to the very end as he spruiks by way of song his $25 CD which he guarantees has 'at least $26 worth of music on it'.
Trucker caps, pork pie hats and flat caps bob and weave as Mojo Webb and his band take the main stage. The sound quality in this part of the venue defies the spartan surrounds. In front of the stage the dance floor begins to fill. Sinewy, leather skinned women with cheap dye jobs and flowing skirts dance to a tune not audible to me, while burly blokes in checked shirts bust a move along with suburban couples having a night on the town. The blues don't discriminate. The tight trio of guitar, bass and drums is joined later by a white guy with dreds on keys, Dillion James. You can tell by the nods and easy segues that they've played together before once or twice. There's no doubting Mojo plays a mean guitar, but his stray cat howls of siren's calls and snarls of love gone wrong are what pull you in and under his spell. All original material, in the best blues tradition they're lyrically either confessionals or pleas for mercy to a lover, God or the devil. Mojo plays gigs at venues widely varied in Brisbane and the US but it's here amongst the faithful that he's in his element. His wiry frame and frenetic hands spark and snap with electricity.
Aglow with the elation that comes from being lost for a few hours at a good gig, we emerge from the underground into the warm fug of another Queensland night, and onward to our respectable homes and neighbourhoods.