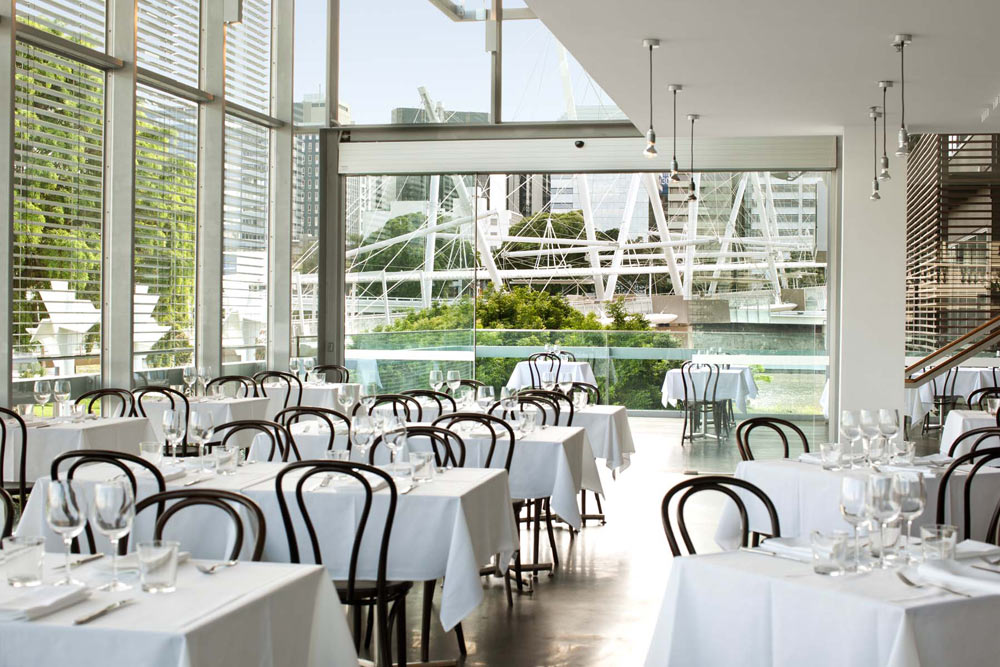 A quiet change rippled through Queensland's cultural precinct late last year. While the 7th Asia Pacific Triennial of Contemporary Art swept into the Gallery of Modern Art with dramatic colour and movement, almost by stealth its food and beverage venues came under new management. But it wasn't a case of running a tender and letting a contract. In a move that echoes a trend for major galleries around the world, these venues are now managed by the Gallery itself.
Arguably the jewel in its clutch of venues across the Queensland Art Gallery and Gallery of Modern Art, GOMA Restaurant is cantilevered over green space with views to the Brisbane River. A glass sheathed cube of simple lines and cool white the space is punctuated only by bentwood chairs and the filtered view beyond. Like the gallery itself, this modern design directs the focus squarely on the art.
Young, handsome and a little shy, if you met GOMA Restaurant's executive chef Josue Lopez under other circumstances, there's every chance you might guess he was a visiting artist. And after dining at GOMA, your conclusion might be that indeed he is. He's worked at Gordon Ramsay's Maze and Noma along with Moda, Two Small Rooms and Spring closer to home. And yet nothing in that impressive list links clearly to the food on offer here.
It's worth noting that the location of the restaurant means that it's entirely practical to skip the art display, should you be so single minded. From the gallery's entry, the restaurant lies at the other end of the central mall, discretely tucked behind the escalators. Entry to the permanent exhibition space of both galleries is free. So whether you choose to make the restaurant the main event or just an opportunity to rest your feet a while is entirely up to you.
Perhaps in attempt to please all comers, there's a choice of a la carte, set menus or degustation offered, with the option of matched wines. Degustation at an art gallery restaurant may otherwise seem hopelessly overreaching, though makes sense for those lucky enough to have enjoyed Lopez's food during his too brief tenure at Spring. Where his highly detailed and sophisticated cooking was at odds with the simple, produce driven aims of that venue, here it seems in perfect harmony with its surrounds.
We take the a la carte route, and are made to feel a little bit special even as our orders are taken. It's a late lunch and our young waiter has only a handful of tables to take care of, all of which are about to be served dessert. It feels almost too quiet in the dining room, so we elect to sit on the deck, lined with timber on five sides but open to the adjoining park, and beyond that, a yard full of milk delivery trucks bordered by the Brisbane River. An entree of sand whiting and squid sounds like the kind of light and fresh flavours we're after. What we are served defies our expectations of 'fish and salad'. Here fillets of whiting are one layer in a composition crowned by snow pea shoots, discs of cucumber and pearls of yuzu gel. It's beautiful to look at and as you eat, a slick of squid ink and dust below adds an earthy note that sings with the explosion of citrussy yuzu. Confit rabbit with globe artichokes, truffles and tarragon is humbler in its presentation but the robustly flavoured tender flakes of meat are delicious. A glass of 2011 Spinifex Fleur Roussanne has just the right combination of funk and texture to suit the dish.
The wine list has been assembled with care that befits the food and there's plenty of interest amongst its pages. Continuing to defy the expectations of its type, this list doesn't rely on big suppliers and mainstream brands. Wines are poured into Riedel stemware at the table and engaged staff offer suggestions to suit the complex and unusual flavours of the menu.A choice of five mains covers seafood, lamb, duck and beef with a pleasing and substantial vegetarian option of mushrooms, smoked potatoes and truffle veloute. Where in other hands mains can be humdrum, wagyu fillet seared and presented as two batons accompanied by sweet, sticky charred onion, mushroom cream and grilled leek provides plenty to get excited about.
There's a whimsical touch in the naming of the desserts – 'five apples', 'the chocolate bar' and the mysteriously yearning 'I miss the beach'. Our waiter explains each dish, but even so, it's a surprise when we're presented with a mousse filled chocolate bar clothed in a thin layer of gold with 'silver' white chocolate ice cream alongside. The taste is as decadent as you'd expect. 'Five apples' is a pretty dish, a ribbon of pink lady apple weaving its way around the dishes' varied textural components. This is food that delights the eye, but delivers confidently in flavour. A rare feat.
Under the stewardship of recently departed director Tony Ellwood (now Director of National Gallery of Victoria), attendances at QAG and GOMA grew to make them Australia's most visited galleries. While GOMA Restaurant has so far flown under the radar, it's a secret that should be shared.
GOMA Restaurant
Gallery of Modern Art
Stanley Place, South Brisbane
07 3842 9915
http://www.qagoma.qld.gov.au
Open for lunch and private functions only.
This review first appeared in ExtraVirgin Magazine.