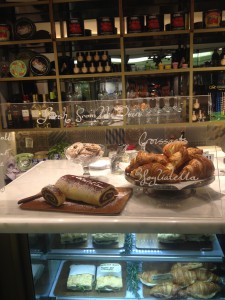 Though laneways are where the media buzz is these days, I'm all about the arcades. The much fêted laneway offers urban grit and sometimes, if there are there are the right kind of bins around, fragrant urban decay. They hide secret entries and hold within them cool bars and cafes, ready to be discovered by the sophisticated urban adventurer. Arcades are a little more genteel, with their soft filtered light and Victorian or Art Deco details. Rather than hide, they beguile passersby with the promise of aesthetically elevated havens, suckling small stores brimful of niche wares and services. A respite from the homogeny of modern malls.
Without the embrace of a friend or lover, but with only my own company for lunch recently, Marchetti at the Tattersall's Arcade was just what I needed. With its vaulted ceilings and terrazzo floors, this small arcade just off the Queen Street Mall was built in the early 1920′s and provides an excellent vantage point for watching the comings and goings of members of the upstairs Tattersall's Club. Sharing the same architects as City Hall, there's a kind of quiet grandeur at work here, though on a smaller scale. The ceiling friezes adorned with horses reflect founding purpose of the club as a meeting place for wealthy businessmen keen for a punt and members of the thoroughbred horseracing industry. The name itself is borrowed from the London horse auctions founded in 1776. So some history to draw on.
Occupying a small space at the apex of the arcade, Marchetti draws from a different history altogether, though there is a distinct continuity with the level of style and sophistication surrounding it. Seating around 30, there is a central upholstered banquette in the arcade itself from which I observed couple of well heeled socialites waving and blowing air kisses to passing Tatts members. Inside, there's more discreet seating at a counter for those seeking a different experience. The interior weaves together muted golds, browns and blues with geometric patterns, dark timber and low lighting to create an elegant space that echoes contintental styling of neighbourhood bars and cafes of Italy. It's a welcoming space that I was in no hurry to leave. Noted for his previous work on the design of Esquire, architect Stephen Cameron again successfully creates a space which invites you to slow down and relax.
And so to the food, which could in such a location be a second thought. There's Allpress espresso and Italian pastries like flaky sfogliatelle, served by an all star Italian female cast. An all day breakfast features Sicilian baked eggs, omeletta and toasted panino. Lunch offers a short but appealing menu with options like cauliflower and white truffle soup, polpette with napoli sauce, eggplant parmagiana and antipasto plates. I choose vitello tonnato on my visit, a favourite I find hard to go past on any menu. The Marchetti version has large rustic slices of poached veal fanned on the plate with thick slashes of salty, creamy tuna mayonnaise, jewel like tiny capers, plump anchovies and unusually, whole black peppercorns. At first the crunch catches me off guard though they add a textural interest I grow to enjoy as I eat. Perhaps one for those with less sound dental work to look out for. The plate wears a petite crown of herbs rather than the advertised rocket salad. I think they suit the dish better visually. With a glass of Caranto Pinot Noir, it makes a most enjoyable light lunch. A short list of cannily chosen wines by the glass or bottle are offered along with San Pellegrino soft drinks.
Looking for an excuse to linger a little longer, I sampled the nutella and hazelnut rotolo topped with amarena cherries and a flat white. Both impeccable, much like everything about Marchetti.
Tattersalls Arcade
202 Edward Street, Brisbane City
Phone: 07 3003 1344
Mon-Fri 7am to 4pm
Sat 8:30am to 3pm