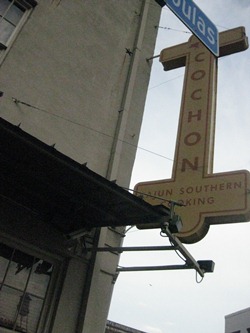 Growing up in an area with a rich European migrant heritage, I took for granted the availability of tasty smallgoods.  Finding these salty, meaty treats in Brisbane is somewhat more difficult.
Maybe this is why I fell so hard for Cochon Butcher.  Even though it was around the corner from our hotel in the warehouse district, being busy with conference commitments sadly meant we didn't try it out right away.  This is a neighbourhood place, the kind of come as you are venue I'd love to see near me.  Located discretely next to Cochon Restaurant, Butcher is a deli come bar come cafe highlighting Donald Link's cajun background and hence all things from the pig.  'Food and sWine' is the way the concept is neatly described on the menu.   I love it and think of it often.
At its core, Butcher specialises in high quality cuts of fresh meats, cured meats, salumi and sausages made on the premises.  You can drop in and have the Butcher staff package these up to take home or arrange charcutirie platters, dips and amazing Cajun party treats or pull up a stool and enjoy fine wines and food.  You'll find everything from steak and foie gras to Cajun specialties like Boudin, Andouille and Tasso.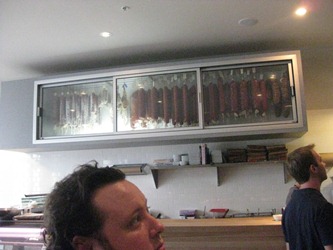 Once we discovered Butcher we couldn't stay away.  It think we visited 4 times in 3 days, working our way through the concise but delicious eat in menu.  There's bar snacks, amazing breakfasts, lunches and a well stocked bar.  We tried the Cochon Muffaletta and a Pulled Pork Sandwich with  potato salad at lunch both of which were served with pickled okra and amazing housemade potato chips.
Cochon the restaurant proper is certainly on the the itinerary for a future visit to New Orleans.  They even have Elderton wines from the Barossa on their list!
Voodoo BBQ is also worth checking out if you're visiting New Orleans.  Authentic southern BBQ and amazing Mango Crystal and Mojo sauces, lovely with pulled pork and a frosty Abita ale.