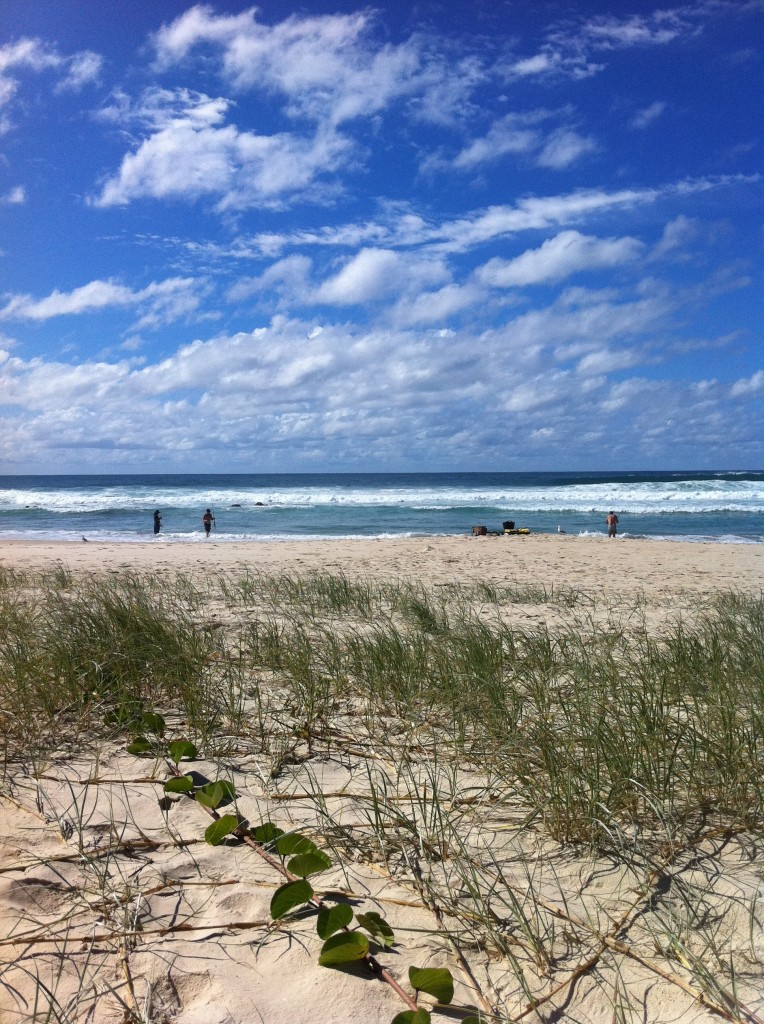 You could, like so many do, drive straight from Brisbane to Byron Bay. Beautiful beaches, beautiful people and bizarre people and everything in between. Byron Bay still has its charms but there's more to the area.
Here's a taste.
Harvest Newrybar
"Where the hell is Newrybar?" I hear you ask. It's little more than a siding off the highway these days, so even if you visit Byron Bay regularly you'll only find it if you go looking. The old highway ran through this small town just inland from Byron Bay and if you visit on a weekend these days, you'll struggle to find a park. That's because some very talented people are running Harvest, a café, restaurant, private dining room and a deli too. Arranged across three cream-painted timber clad buildings, you'd love Harvest if it were in a capital city and you'll love it more for its rural location at the centre of a region known for its produce.
What's great about Harvest is that they respect the local produce by letting it speak for itself. Flavours are vibrant and plating is unfussy. While 'local' and 'organic' are terms that are increasingly overplayed, the food at Harvest is what these words really mean. We had a very late breakfast and staff didn't blink even though they were getting ready to reset for a fully booked lunch. The service here is astonishing, a well oiled machine of young local people who were unflappable despite the Easter crowds. Every one seems to know their job and do it well.
Coffee is from Allpress and expertly made by a deeply tanned barista with impressive dreadlocks. The kitchen is open to the indoor dining area and the team of chefs are as impressive as the floor staff. A verandah wraps around the dining room and its all charmingly un-designed and comfortable. Our breakfasts were delicious – sweet, flaked smoked trout encased in a super fine omlette on sourdough and pork and parsley sausages with poached eggs, grilled cheesy field mushroom and spinach. There's lots of other delicious options, each given a bit of a twist to best use local ingredients. And to make breakfast here even more civilised there's sparkling wine and champagne by the glass and Bloody Marys on offer too. A quick glance at the lunch and dinner menus and the wine list makes me keen to return.
The deli has just opened, but a cheese room as well as a selection of smallgoods and cured hams on the bone along with bread baked on site and plenty of other delicious things make it worth a look in it's own right.
18 Old Pacific Highway, Newrybar
02 6687 2644
Fat Belly Kaf, Brunswick Heads
I kept hearing about this place, so since we were in the area I rang to see if we could get a table for dinner.  We did a mid afternoon reccy and my heart sank a tiny bit. But then I was wearing the clothes I'd been in at the beach, with tangled, salty hair and thongs, hardly dressed for a night at the Ritz. It turned out we were made for one another.
Away from the other cafes and restaurants in the central part of Brunswick Heads, Fat Belly Kaf is a few streets over in Tweed Street. It's next to the fish and chip shop with the Skilltester and the fluoro lights in one of those restaurant-at-the-motel arrangements.
It was a beautiful evening when we visited, the perfect antidote to living the city. We ate at a table outside, with geckos chirping, Jupiter and Venus burning brightly and the other side of the sky lit up by the waning moon right after Passover. At first the Motel's 'no vacancy' sign over our table seemed incongruent but it made a nice light as the night grew darker.
The food at Fat Belly Kaf is a distillation of Greek, Turkish and similar cuisines. Concisely and appealingly described, the menu runs to a couple of pages ranging from small plates, larger share dishes, mains, desserts and sides. The only thing disappointing about what's on offer is that you need a larger group so you can order all the small plates and share them. Or perhaps I'm just greedy.
We started out with a dozen Pacific oysters, a few dressed with pomegranate and shallot. All delicious. Small, sweet and briny, I didn't ask if they were local but they seemed freshly shucked and could convincingly have come from a little further down the coast. Dressings on oysters seems hard to get right but the pomegranate and shallot was just right, not too acidic and just enough to compliment the oysters instead of consuming them.
A progression of small plates followed, nicely spaced so the table didn't get crowded and we could appreciate what we were eating. The blue cheese croquettes with honey mayo had a winning interplay of crunchy exterior and yielding gooey interior with the honey mayo a nice counterpoint to the mild blue cheese flavour. Prawns with saganaki and tomato were also a winner, their soft, sweet tails a good indication of their freshness. I'm not usually one for crunching on prawn tails but it would have been blasphemy not to eat these.
After a few more excellent small dishes, our slow cooked lamb shoulder for two was presented on a platter. Fragrant and meltingly tender, it was served with sticky spice roasted pumpkin, roast potatoes and pan juices so good I took to spooning them over my veggies. Hardening of the arteries be damned!
By this stage of the evening we'd met Jake, one of the new owners. Fat Belly Kaf changed hands a few months back, after previous owners Kat and Damian Williams sold the business. Jake knows a thing or two about wine and after a bit of a chat it became clear how this place came to have such a great wine list. It's not long but it's clever and individual and a little quirky. Since we were ordering dessert, Jake organised a bottle of the Domain Day Dolcezza, a late harvest Garganega. Usually Garganega is made into Soave, a staple Italian table wine, of the sort drunk in summer by the pool with seafood. This was a sweet though restrained wine with lemony citrus and almond oil flavours well suited to the star dessert on the menu. Not for the easily defeated, it's a sort of inside-out Greek custard bougatsa. Served in a large pudding bowl, there's layers of light orange blossom water flavoured cream custard and pastry topped with flaked almonds. You could share it between a couple of people, but I was pleased to have the sublime dark chocolate tart with strega soaked figs to myself. This was faultless, and I don't think I've had as good at more serious restaurants.
Because good Turkish Delight is always too good too pass up, and because its presented to you in a sort of fantasy magic carpet style silver dish with silver tongs for you to select a piece, we tried some of that too. Delicious.
In the interests of a proper evaluation of the menu and wine available at Fat Belly Kaf, I plan to head back soon with a group of friends. I recommend you do the same.
Old Pacific Highway (Tweed Street)
02 6685 1100
Tweed River Seafoods, Chinderah
A visit to the area isn't complete for me without a trip to Tweed River Seafoods at Chinderah, usually for fish and chips and sometimes for prawns and oysters. Chinderah is at the northern end of the Tweed Valley, not far over the border and near the new resorts around Kingscliff, now marketed as Casuarina Beach. But there's no gentrification here at Tweed River Seafoods, it's the same as always, good old fashioned service and staff who are pretty comfortable in their white gumboots. Golden, crispy batter and usually good chips, but mostly really fresh fish. You can also buy super fresh prawns, bugs, oysters and a big range of filleted and whole fish here.  Make sure you phone ahead to order prawns at Christmas time if you're visiting the area. Special mention for the way they wrap the fish and chips.
78 Chinderah Bay Drive, Chinderah
02 6674 1134
There's lots to love about this area and with the very last bit of the border bypass being completed at the moment, there's never been a better time to skip the Gold Coast and head for where the beaches are quiet and the food is good.