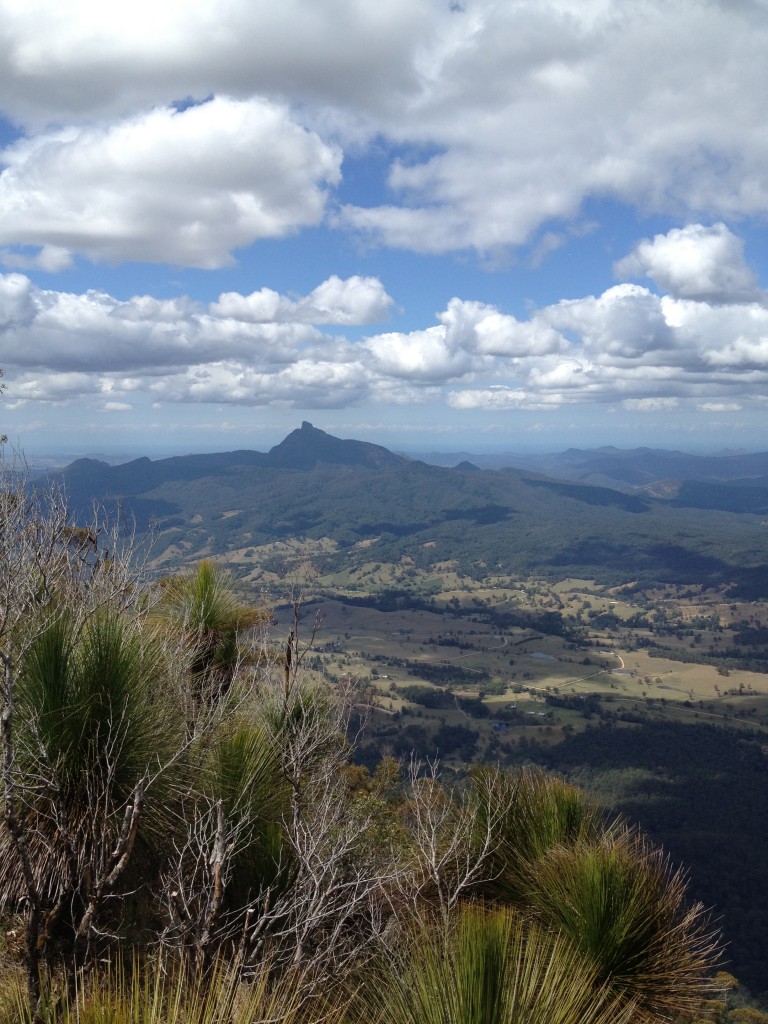 Tucked away at the bottom of Mt Warning, Uki is one pub town surrounded by a dramatic green landscape of soaring peaks. It's not somewhere you're likely to visit by accident but if you're exploring the surrounding national parks, Uki is a great spot to stop for a meal. Deep in the Tweed Valley, Uki is around 15 minutes south of Murwillumbah or can be reached via Kyogle Road if you're coming from Kyogle, Lismore or Nimbin. It's a scenic drive from Byron Bay or Brunswick Heads if you're staying on the coast or the mid point of an easy day trip from Brisbane.
We were in the area to check out the Border Ranges National Park and even though it was a Saturday we seemed to have the place to ourselves. It's a World Heritage park on account of the large rainforest wilderness and the ancient caldera that encircles it. There's some spectacular views from The Pinnacle and if you've never been I highly recommend it. It's a short walk out to the lookout, less than 200 metres of gently sloping terrain.
There's an unsealed road between The Pinnacle and Uki, so visiting both in a single trip won't suit everyone, but a visit to Uki is a good way to soak in the mountain air without getting your boots or your car dirty. I've heard the local pub, the Mount Warning Hotel, is popular with bikers who are attracted to the winding roads and hill climbs, but we gave it a miss on our visit. We had a peek and decided against chancing our luck at the local last chance saloon.
There's two well regarding cafes in town, Sphinx Rock Café and Uki Café. We choose Uki Café for its view over to Mount Warning and Sweetnam's Humpy, overlooking the primary school and the Buttery, now a thriving arts and community centre.
Uki Café is a converted house with a most of it's dining area on a long verandah. There's a cool breeze and a calm vibe about the place. Arriving with fairly low expectations, we were delighted to discover simple, fresh and tasty lunches and home cooked cakes. The coffee is from Byron Bay Coffee Company and is well made. Generous amounts of super fresh salad accompanied our meals of fish and chips (flathead) and a very tasty homemade beef burger. The orange, pistachio and dark chocolate cake was a highlight for me and other choices included cheesecake, carrot cake and a selection of shortbreads. They're licensed too if you wish to linger a little longer over a cold beer. There's also an all day breakfast menu and a little shop next door to the dining area full of retro clothing and homewares.
It's a delight to find a gem like Uki Café and I could happily while away an afternoon on the verandah with a few friends or a good book.
Uki Café
2 Rowlands Creek Road
Uki NSW 2484
Phone 02 6679 5351