I am deeply conflicted about Terroir, a wine bar with branches in both New York's TriBeCa and East Village.
On the one hand I wish it were downstairs from my apartment, so I could visit whenever I pleased, to partake of excellent bar snacks and work my way through all 54 pages of the wine list.  On the other, I am glad it is a long flight away in a country I try and visit no more than once a year, lest I absent myself from my business and relationship in order to become a devotee of Paul Greico and his altar to wine, slowly draining any accessible funds along with each glass.  I am resolved however that Terroir could only exist in New York.
Terroir is a small, buzzy and instantly comfortable wine bar that you would probably not give more than a second glance if you weren't looking for it, as we were.  In fact I was somewhat obsessed and lucky that my patient husband was good enough to indulge me.  It works as a place to drop in for a few drinks after work or a place to gather with wine nerds and enjoy rare and very special wines.  The atmosphere is warm and welcoming and you'll sit at the bar or a communal table where you'll strike up conversations with a variety of people who love wine.  I do not recall the specifics of what I drank – a slightly sparkling German Riesling to start, many other things afterwards…… the passionate staff are willing and competent accomplices in whatever exploration of the wine list you wish to make and it makes sense to put yourself into their hands.  We shared a 'combo platter' of charcuterie and cheese which is available in three sizes – methuselah, salmanazar and melchizedek.  Whatever size you get this is very good value and full of excellent wine friendly food.  The food is by Marco Canora, also chef at the very excellent Hearth restaurant, a few doors from Terroir where we later had easily the best dinner I've eaten in the US.  Again, the staff at Hearth was knowledgeable, passionate and accommodating of a request for some Australian wine, resulting in a Betts & Scholl 2002 Grenache from the Barossa Valley.  It may seem sacrilegious but sometimes after extended travel you wish for something familiar. 
We visited during Terroir's 'Summer of Riesling', a celebration of Riesling where the only white wines available by the glass were Riesling.  A fantastic idea!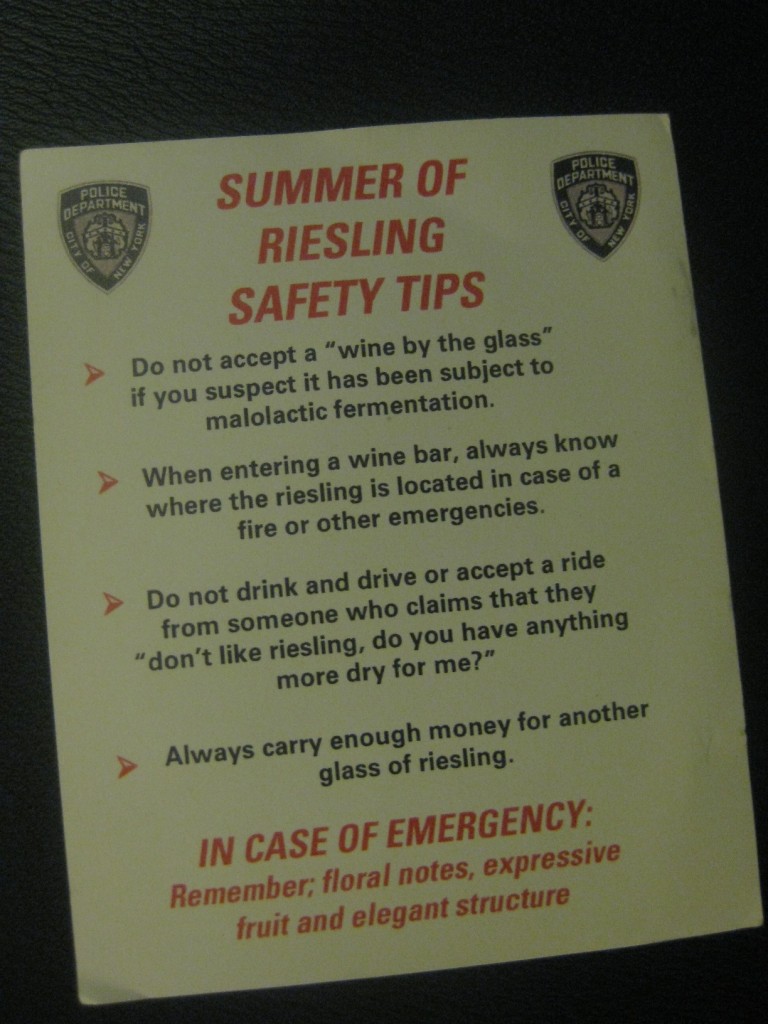 In case you think that Terroir is an elitist place for wine snobs, here are some gems from the menu and wine list:
"Cheese – The Other White Meat, Ask Any Belgian Monk"
Lyrics for 'White Wine In a Box' – a wine themed reworking of Justin Timberlake and SNL's 'Dick In A Box' and ode to Lindsay Lohan rolled into one.
A full page missive calling for street fairs to be banned: "Because while street fairs generated $1.6 million for NYC last year, Street Fairs cost us $2.4 million in police overtime.  Because all the tube socks Street Fairs sell have holes in them.  Because a chicken kabob on 3rd Avenue and 22nd Street tastes exactly like 3rd Avenue and 22nd Street and that is not the terroir we are looking for."
(in the middle of around a dozen pages devoted to rieslings) "Acid is our Friend!  Like a date with Lady Gaga.  Or an audience with Hugo Chavez.  Or a dance with Kathy Lee Gifford.  ………We are generally afraid of acidity in wine.  But damnit People of America…we desperately need acidity in our lives…to cleanse the streets of blowhard millionaires from Buffalo, to drown the stupidity of the 6th Congresswoman from Minnesota, to act as an enema against the overcrowded hallways of K Street.  We desperately need ACIDITY."
From "The Architect of Wine Silence" on Anne-Claude Leflaive of Domaine Leflaive  "A rare few can elevate wine to a level where one doesn't even realise grapes or man was involved; only terroir can be experienced…….The architecture of these wines is profound.  Silence can be the only result when faced with such perfection."
Greico's immense passion is stamped all over Terroir, his opinions illuminate and expound the virtues of the myriad wines offered.  If you are in New York, forget Momofuku, forget Per Se, forget the rest and get your arse on a stool at the bar at Terroir. 
Note:  I am most distraught that the fabulously entertaining wine list is now a mere 35 pages and no longer includes political commentary about Obama, Greek economic woes and contains only about a third the total number of rants.  Importantly I think there is still just as many wines.  After my visit, I commented on Twitter to @TerroirNY that I had contemplated slipping a copy of the wine list into my hand bag – to which Greico replied with a link to the wine list and a suggestion that I should 'Print wine list, make hand bag'.  The reality is Terroir's wine list provides enough material to make luggage requiring several valets.