I live, work, eat, drink and do most other things within a tight radius of the Brisbane GPO.  If I can't get to it on foot or on the 199 bus, then I'm almost certainly being paid to go there by a client.
That said, I do love the country and often imagine myself growing vegies and engaging in other rural pursuits.  Even though I'm really a townie, I was lucky enough to grow up with friends and families with farms and spend plenty of weekends and holidays visiting them.
I recently got to visit the Granite Belt with a couple of friends.  It's a fair hike for a day trip, and whilst accommodation in the area isn't anything flash, I'd suggest staying at least overnight.  We were somewhat hampered by bad weather with low clouds and rain settling in for the full day.
After the obligatory road trip sausage and egg muffin and hashbrown our first stop was Suttons Farm at  Thulimbah, ten minutes out of Stanthorpe.  The Sutton family make apple juice, cider and run a tea room with apple-y cakes and treats.  I'd heard a bit about Suttons and was expecting something different to what we found.  It's a pretty basic set up with a small shop and seating area in a corner of one of the old packing sheds.  Juice and cider were great but unfortunately the lady who served us couldn't have been less passionate about their products and engaging her in any kind of conversation to find out more about the products and processes proved futile.  A shame.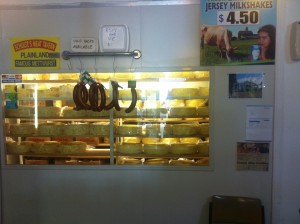 Next stop was Granite Belt Dairy.  Owners Ross and Karen make farm house cheeses from their herd of 20 something pretty jersey cows.  Ross manages the herd of 'supermodel ' cows and Karen makes the range of seven cheeses, which include an Italian style hard cheese, a double cream brie,  a blue and a cheddar style.  Karen explained that the concept of their dairy shop is to offer all the things you'd need to have a decent picnic.  There's a huge range of jams, chutneys, relishes, oils, vinegars, wine, bread along with cheese boards, bottle openers and other bits and pieces. It's a well run tourism business that many more in the region would do well to model from.  Maturing cheeses are also on display at eye level behind the shop counter and Rosco and Karen are happy to have a chat about the region, their cheeses and pretty much anything else.
We'd chosen Robert Channon Wines for lunch and by the time we got there the rain was heavy so we bolted from the car to the fire inside their tasting room, which was full of people with just a single person behind the tasting bench.  So straight to lunch for us.  The menu is an interesting mix of dishes – from home cooked favourites, to French inspired and a few Asian inspired dishes thrown in for good measure.  While the meals were fine, they weren't up to the same standard as the fantastic wines which are available by the glass or bottle at very reasonable prices.  With a view of a lake and foothills and frolicking calves and water birds providing entertainment, it a top spot to relax and warm up.
As the rain continued to bucket down, we got a little lost trying to take a shortcut to our next destination.  It turns out that smartphone GPS apps don't work that well without a mobile signal.  The area around Thulimbah is mostly orchards with extensive netting to keep the birds out and the fruit on long enough to set.  So quite by chance we wound up at Heritage Estate Wines, where I've been once or twice before.  Staffed by the loveliest lady, we had the place to ourselves and our host talked us through their collection of antiques which includes the cabinet room table from Queensland first parliament, the wines and a bit about the history of the area.  I enjoyed their 2009 Reserve Chardonnay – lovely texture and freshness and well priced at $25.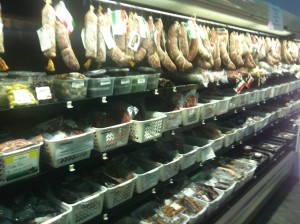 With rain still hanging about and a long drive ahead of us, we made a quick pit stop at Vincenzo's.   This place crams pretty much every food and drink product produced in the region into one store.  The sheer quantity of smallgoods and cheese here rivals anything available in Brisbane.  Good bread, olives, sardines, olive oil and wine are also stacked high and wide.  You can also pick up local fruit, mostly undersized and marked produce rejected by supermarkets but not spoilt by long periods of refrigerated storage or transport.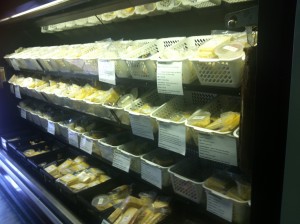 We only scraped the surface of the Granite Belt, and uncovered a couple of gems.  With more time and the right operators and marketing, the region is well placed to grow and attract more visitors and investment.
The Granite Belt region is around 2.5 hours drive from Brisbane and surrounds the country town of Stanthorpe, near the Queensland/New South Wales Border.
More info on the region, accommodation, wines and other attractions here.